One of the greatest joys of spring is the bounty of red, ripe, and delicious strawberries. And Peddler's Village, one of Pennsylvania's most popular destinations, celebrates its annual Strawberry Festival during the month of May. At this colonial style village nestled in picturesque Bucks County, you'll find a variety of strawberry-themed treats, food specials, and goods throughout the village all month long. There's also live entertainment on the weekends!
Besides all the strawberry fun, there's so much to do at Peddler's Village. You can shop its 65+ unique boutiques, with everything from home goods and clothing to art, toys, books, and gourmet treats while walking through its award-winning blooming spring gardens. With 9 restaurants, a taproom, a wine tasting room, and hand-crafted specialty foods of all kinds, you'll find an array of delicious things to snack on while you shop.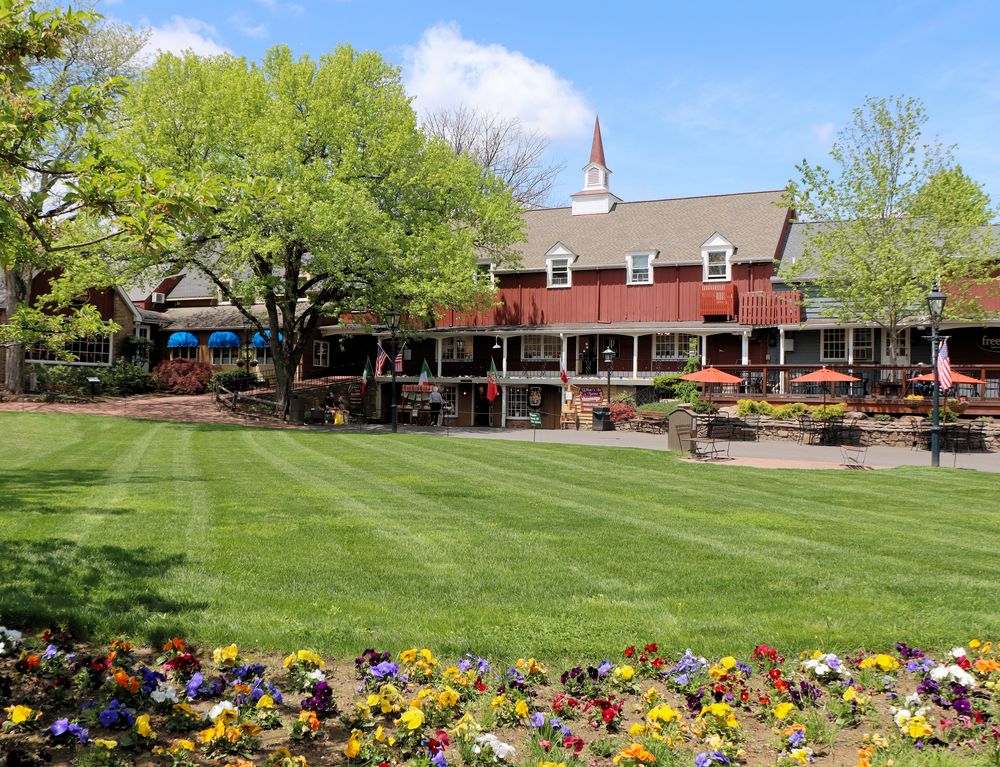 For something extra special, Peddler's Village will be officially bringing the beach to the village! Through June you can watch master sand artists and their teams as they carve out 8 incredible larger-than-life sand sculptures that will be on display through the end of August.
To give yourself more time to experience the village, plan for an extended stay and book a room at their onsite 70-room Golden Plough Inn.
If you can't make it here in May, make a plan to come out for their Summer Block Parties in June, Blueberries and Bluegrass Festival in July, the Peach Festival in August, or one of their other incredible events listed here.
Here are some of the great shops, things to do, and strawberry inspired goodies you'll find throughout Peddler's Village during the month of May.
Buy Pies and Strawberry Themed Items in the New Peddler's Village General Store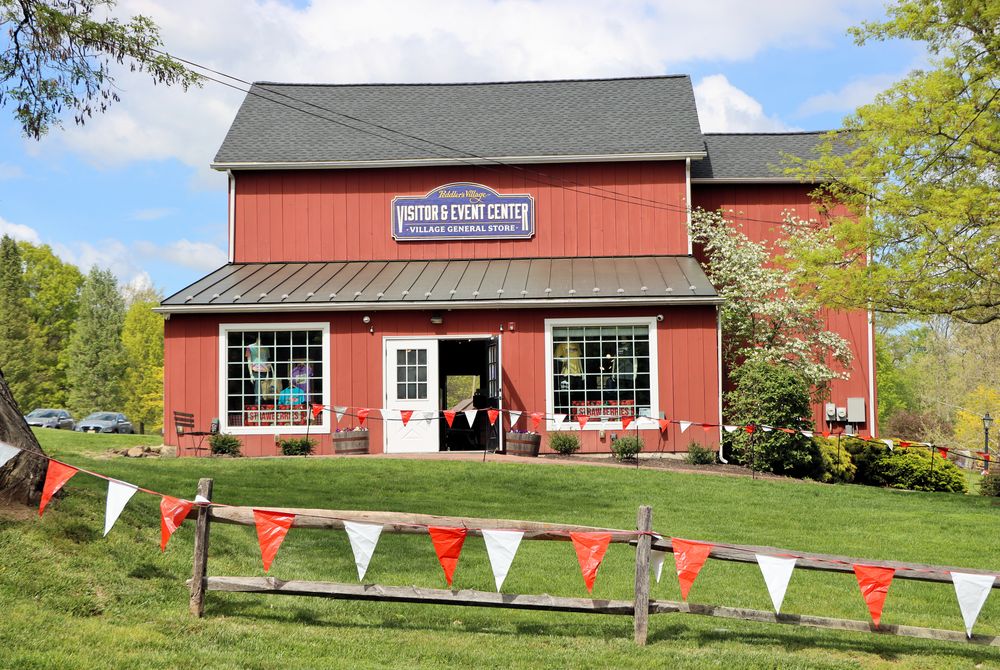 One of the recent additions at Peddler's Village is their General Store inside the brand new Visitor & Events Center. Look for the beautiful red barn on Street Road, one of two main roads running through the village. Pop into the shop for souvenirs, food items, and to see featured arts & crafts on display. 
Each year for Strawberry Month, Peddler's Village also sells their famous double-crusted 9″ strawberry pies! These sell out fast, but if you're heading to the village, you can pre-order your pies and pick them up in the General Store.
You can also shop the Village General Store's strawberry collection online here.
Take a Ride on a 100-Year-Old Restored Antique Carousel at Giggleberry Fair
For something truly magical, head over to Peddler's Village own all-ages, family-friendly amusement center, Giggleberry Fair where kids and adults can ride their beautiful working 1922 restored Philadelphia Toboggan Company carousel.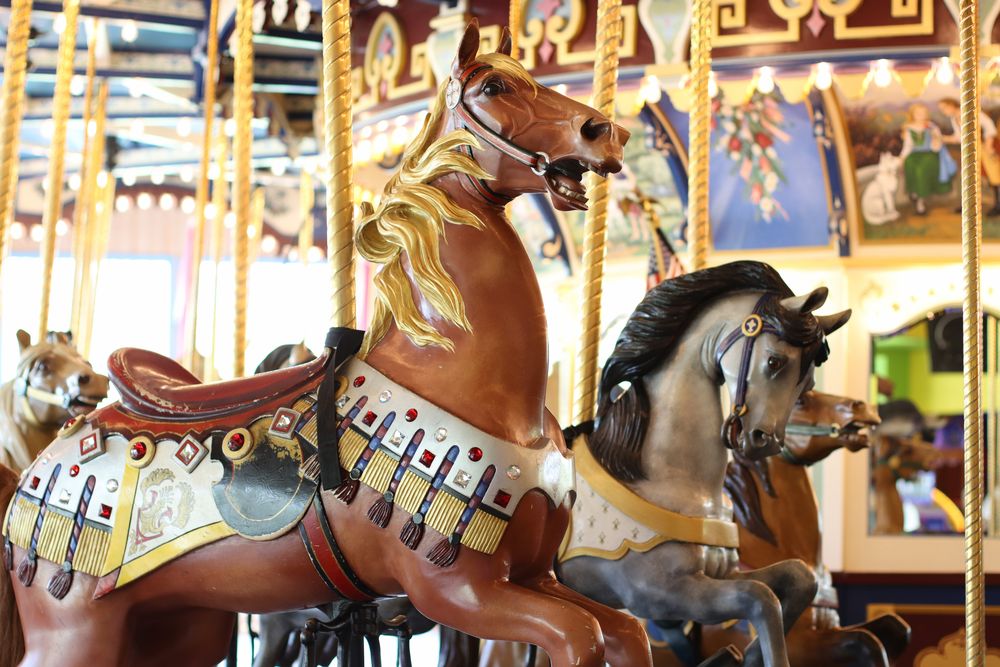 After a few enchanting rides, head into the arcade to play games and win prizes.  For a fun physical challenge, have the kids work off some energy on Giggleberry Mountain, an incredible three-story, six-level indoor obstacle course and maze.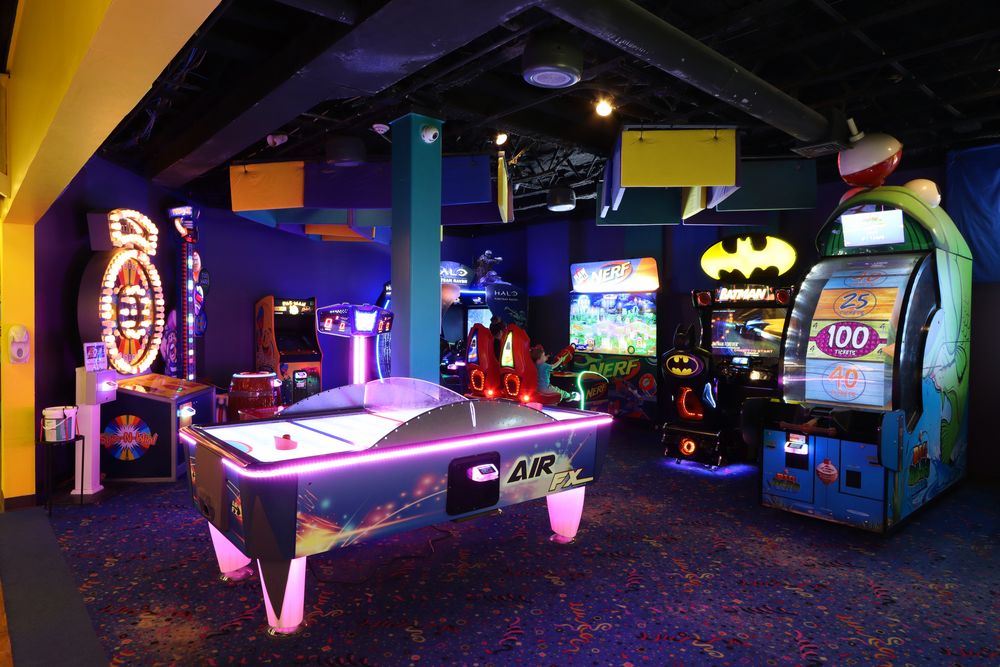 For treats and snacks, Giggleberry Fair's Painted Pony Cafe offers yummy bites with everything from pizza, burgers, nachos, and chicken tenders to funnel cake fries, gelati, milkshakes, and cotton candy. There's even wine and beer for the adults to enjoy.
Take a Yoga Class or Update Your Workout Gear at Body Language Company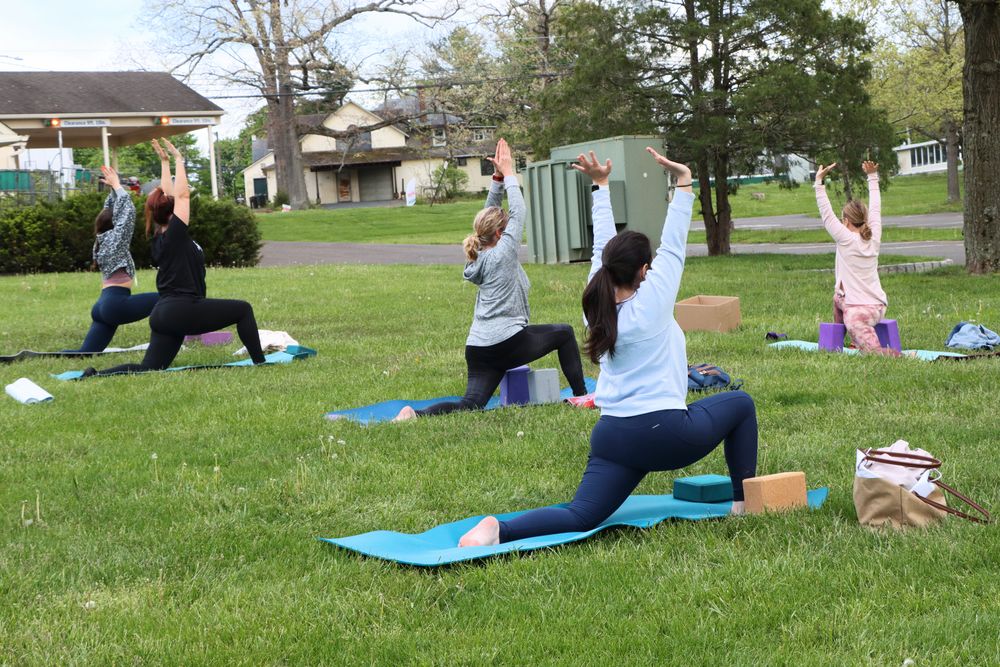 Body Language Company

163 Peddlers Village, Lahaska, PA 18931
shopbodylanguageco.co
Whether you're a fitness fanatic or you just like to look good in leggings, Body Language Company is a chic little shop in the village that offers a stylish selection of health and wellness-inspired clothing and goods for both men and women.
This woman-owned fitness shop in the Wagon House shops in the village is the place to go for stylish workout clothes (up to size 3XL) and fitness gear like yoga mats, weights, and gym bags. If you don't currently have a fitness routine, Body Language Company also offers great options for staying comfy while lounging or running errands around town, including fun graphic tees, tumblers, as well as bath bombs, and candles.
More than just a fitness shop, Body Language Company hosts weekly yoga and self-care classes. For the perfect way to wind down at the end of the week, head to Body Language's "Wine Yoga" on Fridays which combines a gentle yoga flow led by local yoga instructor, Martha DiCredico (we took a class with her and it was super relaxing) while sipping local wine (21+).
Build Your Own Terrarium at Greenology, a Whimsical Haven for Plant Lovers
Greenology

Peddler's Village 2449 Street Road Shop #23 A, New Hope, PA 18938
https://www.greenologyorganics.com
Located in a "storybook" worthy, standalone historic home on Street Road in the village, Greenology is a shop dedicated to green home living. Besides having organic and sustainable home decor, accessories, and personal care items, Greenology has a beautiful selection of house and garden plants and plant vessels to add a touch of green to your space.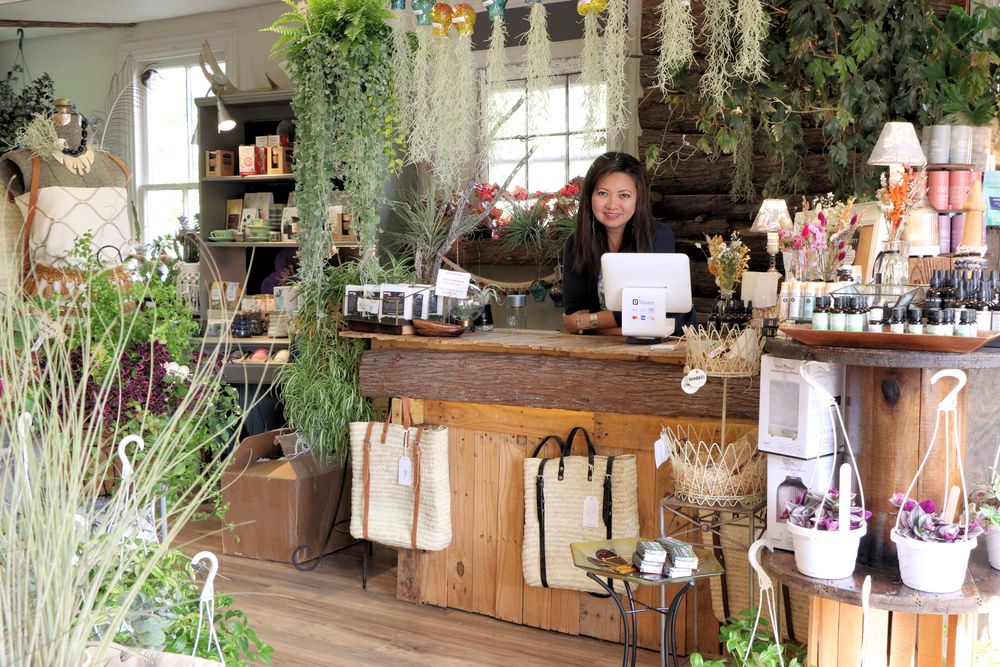 For an especially fun experience, visit the Greenology Terrarium Bar, where you can build your very own terrarium.  Bring your own vessel or choose one of theirs and Greenology will supply the rest, including a selection of sand, pebbles, moss, shells, bark, air plants, and other organic items to include in your terrarium.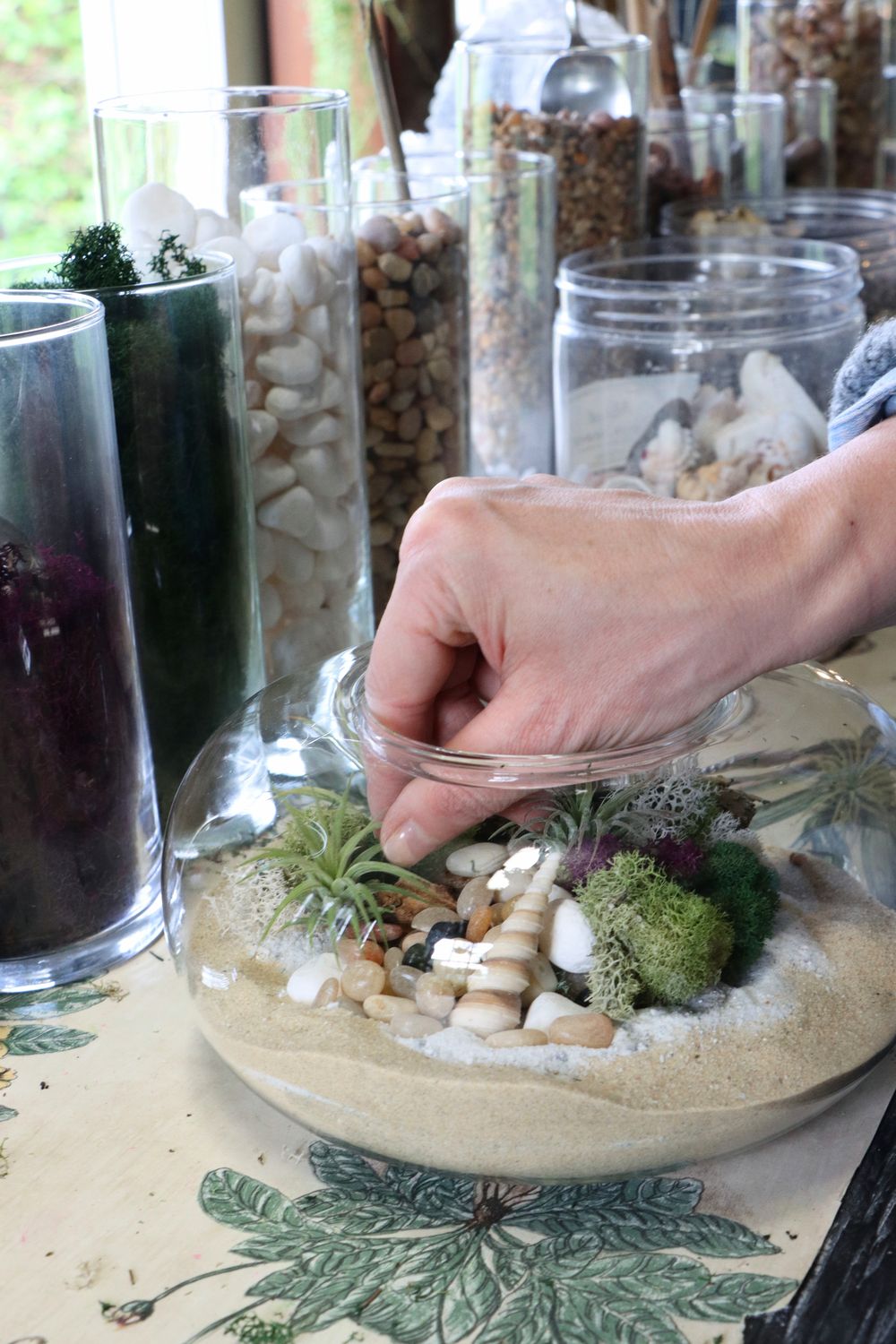 Not only is it a fun and a unique experience, but you'll have a gorgeous living showpiece for your home that's like a little work of art. To make your own terrarium, pop into Greenology any time. 
Find Unique Finishing Touches and Accents For Your Home at Knobs 'N Knockers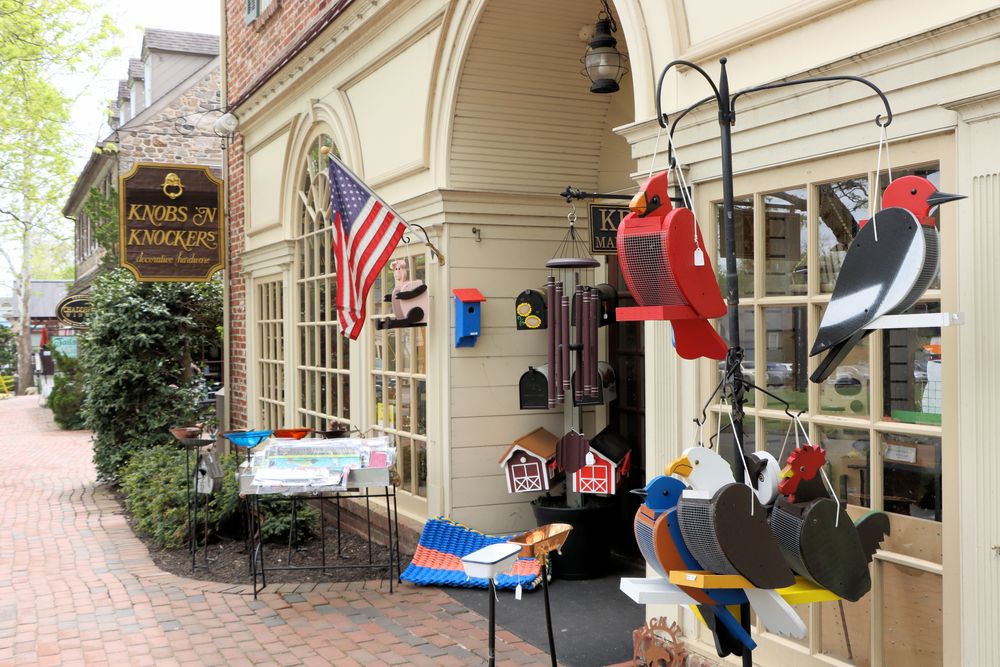 For a shop that can really help you make a statement in your home, Knobs 'N Knockers has the area's largest selection of decorative and architectural hardware, including draw pulls, cabinet knob and door hardware. One step inside and you'll start dreaming up all the wonderful accents you can add to your own home. If there's an accent to be had, Knobs 'N Knockers has it.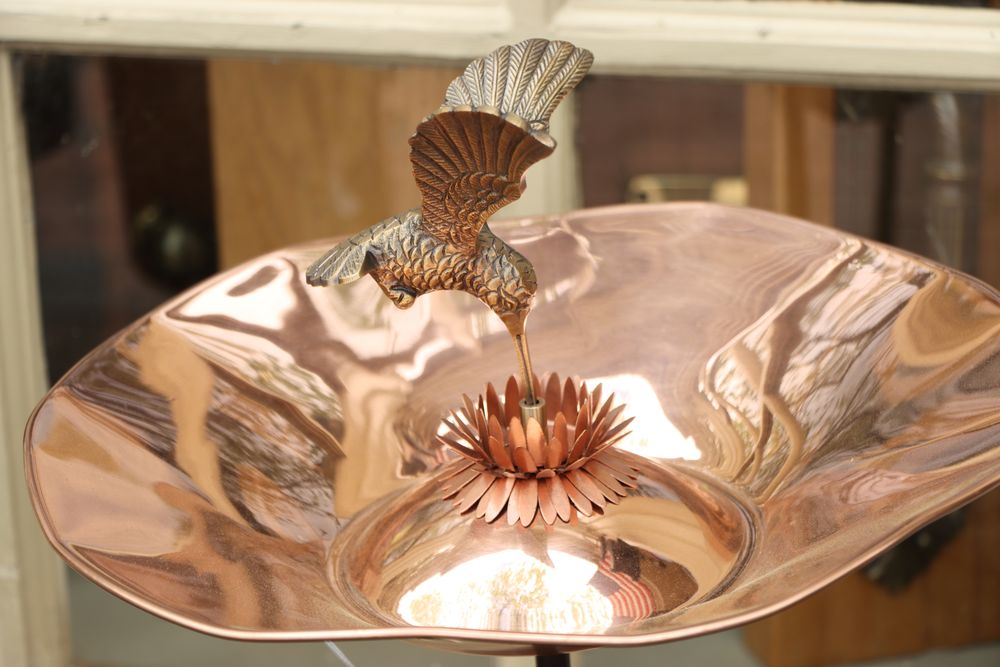 Other hardware they have includes locks and keys, switch plates, address numbers and plaques, mailboxes, fireplace accessories, and unique home and bath accents. Find them on Street Road in the village with the lovely selection of birdbaths and feeders displayed outside.
Discover Authentic Delicious Imported German Treats and Cuckoo Clocks at Fehrenbach's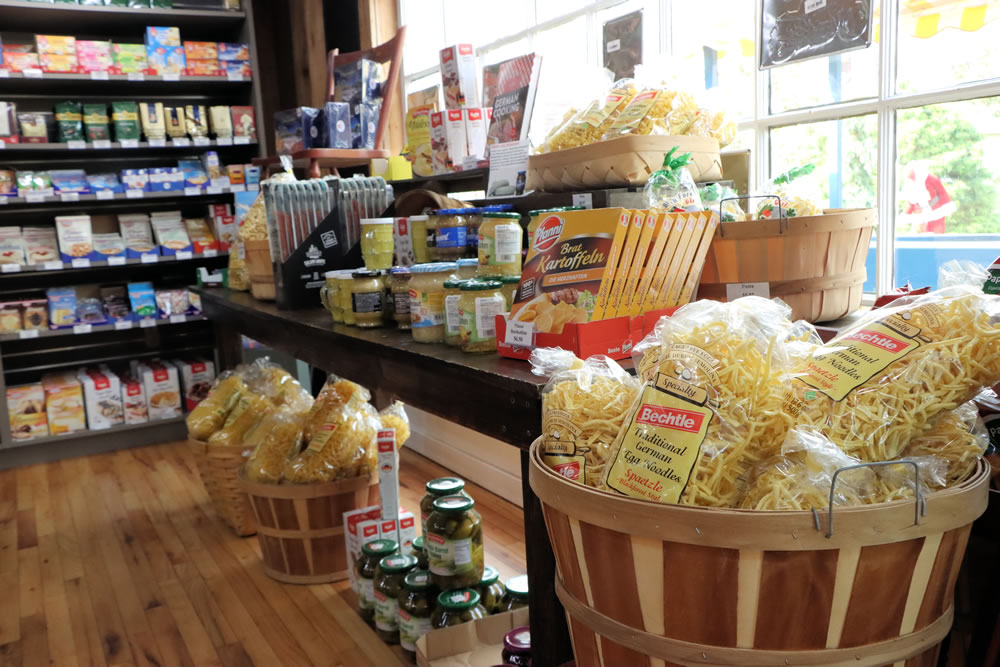 Fehrenbach Black Forest Cuckoo Clocks and Gifts

Route 263 & Street Rd, Lahaska, PA 18931 Shop #68
germanclocksandgifts.com
Peddler's Village is home to the largest German goods store in the country where people come from far and wide to see Fehrenbach's amazing selection of authentic Black Forest Cuckoo Clocks. Each one is a work of art!
Don't leave without something from their incredible selection of imported German foods including sausages, cheeses, pretzels, cookies, candy, condiments, and chocolates. Apple strudel is always a favorite, but for strawberry season try some of their chocolate German imports like Strawberry Cheesecake Milka and Strawberry Yogurt Ritter Sport (Erdbeer Joghurt) or strawberry candies from German brands Haribo and Hitschie's.
Transform Any Outfit With Accessories from Sunflowers Boutique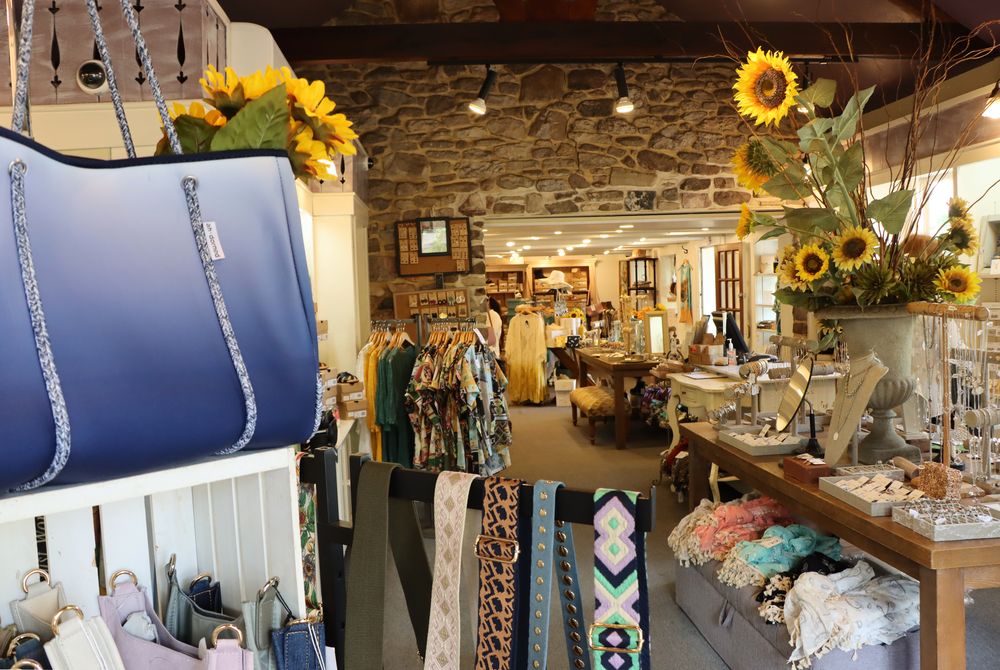 If your accessories can use an update, Sunflowers is an airy corner shop that has a nice selection of affordable jewelry, wraps, bags, hats, shoes (like UGGs and Toms) as well as home gifts including lotions and soaps. It's a great place to find a gift or bring home something special for yourself. Every purchase here comes with a complimentary packet of sunflower seeds for your home garden.
Find Strawberry Sun Dresses, Stylish Clothes, Accessories, and Decor For the Little Ones at Snugglebunny
Snugglebunny is a sweet little shop in the village that carries stylish clothes, toys, books, keepsakes, and home décor for infants and toddlers. This is a great shop to find clothes for kids when you want something stylish and unique that you just won't see everywhere else. We love that! A few items we're digging for the summer are their retro sundresses (notice the strawberries!). Another must-have: the taco swim shorts for boys.
Score Your Next Summer Read at Lahaska Book Shop
Lahaska Book Shop

162A Peddler's Village (corner of 162 Carousel Ln & Rte 263 A)
https://www.doylestownbookshop.com
Bright and cheery, Lahaska Book Shop is an adorable independent book shop right in the village with a wonderful selection of books, magazines, and fun finds for both children and adults. Stop in and browse their unique collection of new releases and staff picks to find your next summer read. You can even join one of their online book clubs dedicated to a variety of literary genres and get 20% off book club picks.
Update Your Summer Wardrobe With Something Chic From Fox & Holly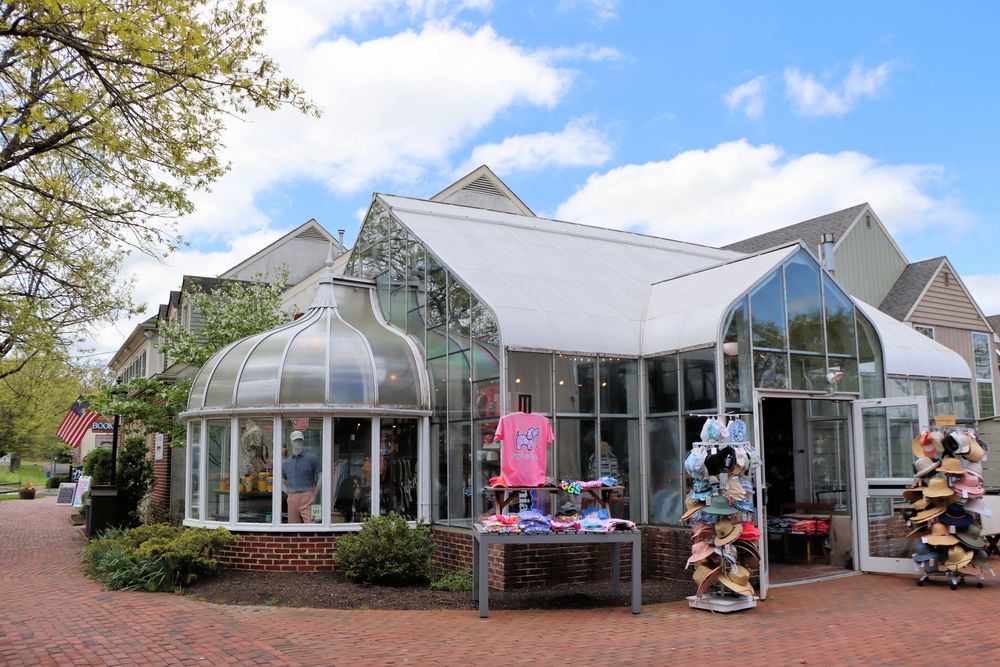 Voted Bucks Happening Magazine's 2022 retail winner for the best 'Women's Clothing,' Fox & Holly Bucks County is a modern boutique that offers a collection of upscale casual and dress-casual clothing, shoes, and accessories for men and women. The clothing here is chic, unique, and high-quality. Just a few of the great brands carried here include French Dressing Jeans, Free People, Faherty, Marine Layer, and Pikolinos. You can also grab all your Yeti gear here before it's officially beach season.
Where to Eat at Peddler's Village
After strolling and shopping through Peddler's Village, you're absolutely going to get hungry and thirsty. But that doesn't mean you have to get in your car. Peddler's Village has plenty of food and drink options, whether you're looking for a sweet treat, a glass of wine, a casual bite, or a full dinner with apps, cocktails, and dessert. Takeout meals are also available from all restaurants and eateries. Spring is also the perfect time to eat outside and there's plenty of tables available around this scenic property. Here are some of our favorites!
Head to Hart's Tavern For the Best Fish and Chips this Side of the Pond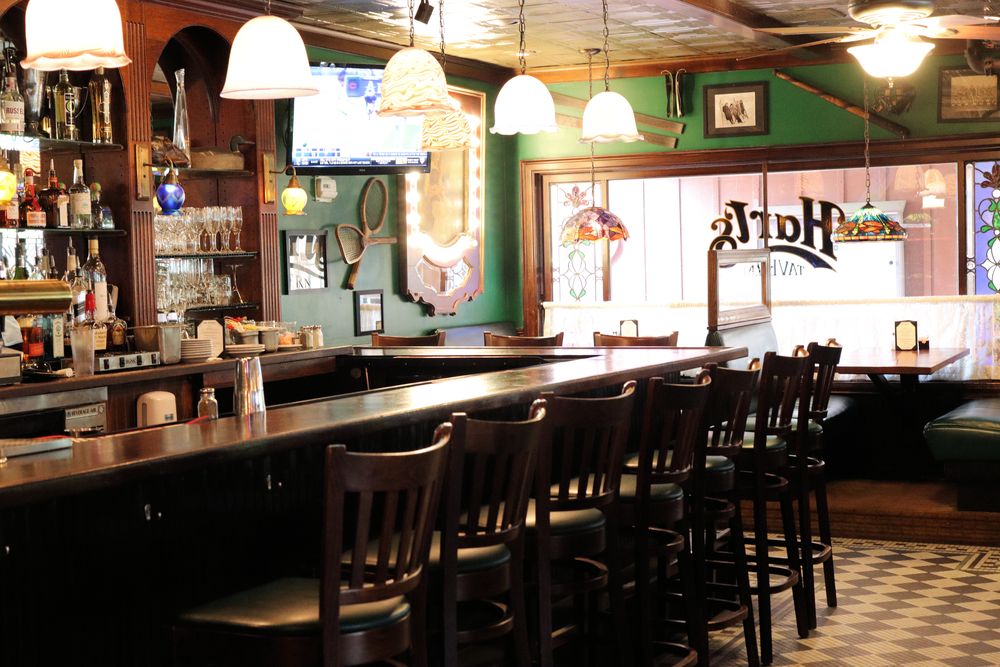 For a classic, pub experience in Peddler's Village with a 'Cheer's' kind of vibe, Hart's Tavern is the place to go for American tavern fare.
For a strawberry special, we chose the Carnitas Tacos with Strawberry Salsa, which are on special for the month, and their Fish & Chips ($18) with smoky onion tartar. The tacos were moist and paired perfectly with the tangy strawberry salsa. A great special to try if you're in a taco kind of mood (we are most days).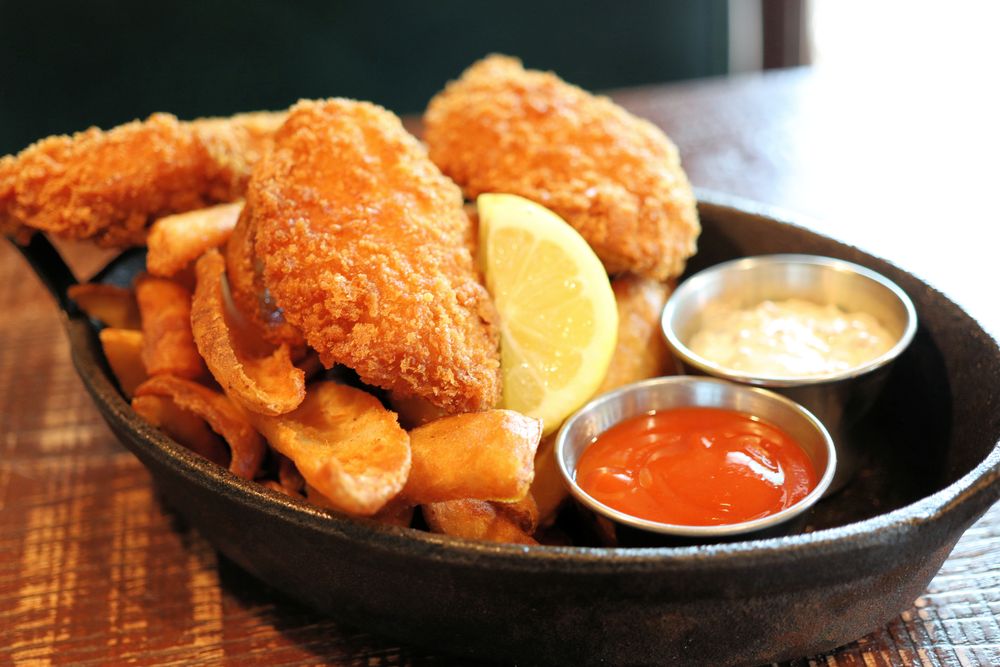 As someone who's had their fair share of fish & chips, Hart's has some of the best I've had in a long time. The fish was buttery and perfectly fried, while the "chips" were a unique fusion of something between a French fry and a potato wedge. Perfectly seasoned and deliciously crisp, the smoky onion tartar on the side was the perfect creamy complement.
Hart's opens at 11 am each day for lunch and dinner.
Moku-Bowls is a Hidden Gem For Fresh and Healthy Food That's Big on Flavor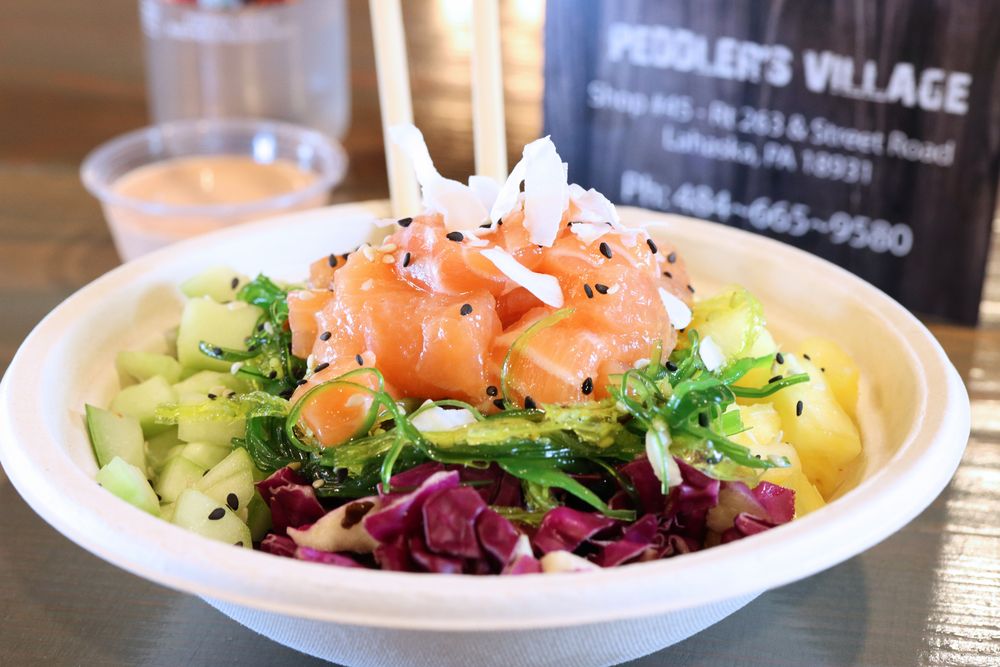 A 2022 finalist for 'Best Healthy Restaurant' and 'Best Fast Casual Restaurant' in Bucks County, Moku Bowls is the only spot in Peddler's Village where you can grab variety of healthy and super delicious fresh poké, fruit, yogurt bowls and smoothies that you can customize with a variety of ingredients, toppings and sauces. One bite of a Moku Bowl and you'll understand exactly why it has a local cult following.
Poké meaning "to slice" or "cut in pieces", is a native Hawaiian dish traditionally made with bites of marinated raw fish similar to the tartare you'd find on a sushi menu. And while delicious, the poké at Moku goes beyond the raw tuna and salmon bowls. You can also opt for cooked protein options like chicken or marinated tofu.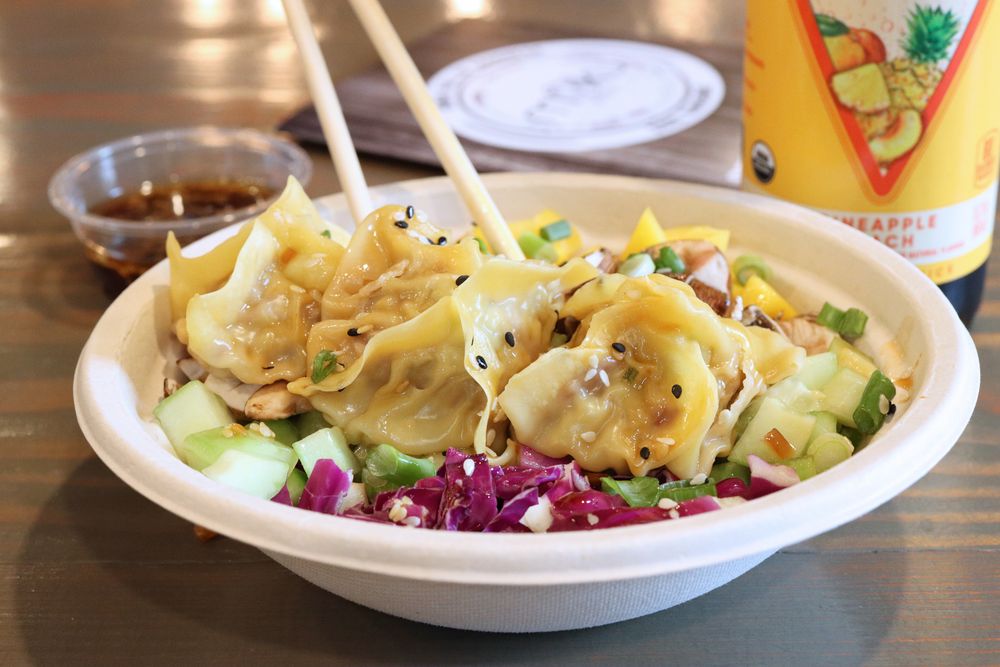 One of the newest additions to the menu, don't miss their new Asian style dumplings made with veggies and spices like ginger, garlic, sweet onions, cabbage, and mushrooms and served with a Moku Bowl's special dumpling sauce for dipping! Choose between their vegan-friendly veggie dumpling or chicken.
If you're getting an early start in the village, enjoy one of their 'Sunshine Bowls'. These are made with a yogurt or fruit base, like acai or pitaya (dragon fruit), and then topped off with treats like strawberries, bananas, coconut granola, and drizzled with honey, almond butter, peanut butter or Nutella. Yum! Like the other bowls here, you can choose from their 'Sunshine Favorites' or build your own.
Grab a Specialty Coffee and The Best Buns and Baked Goods Ever at Mama Hawk's Kitchen & Coffee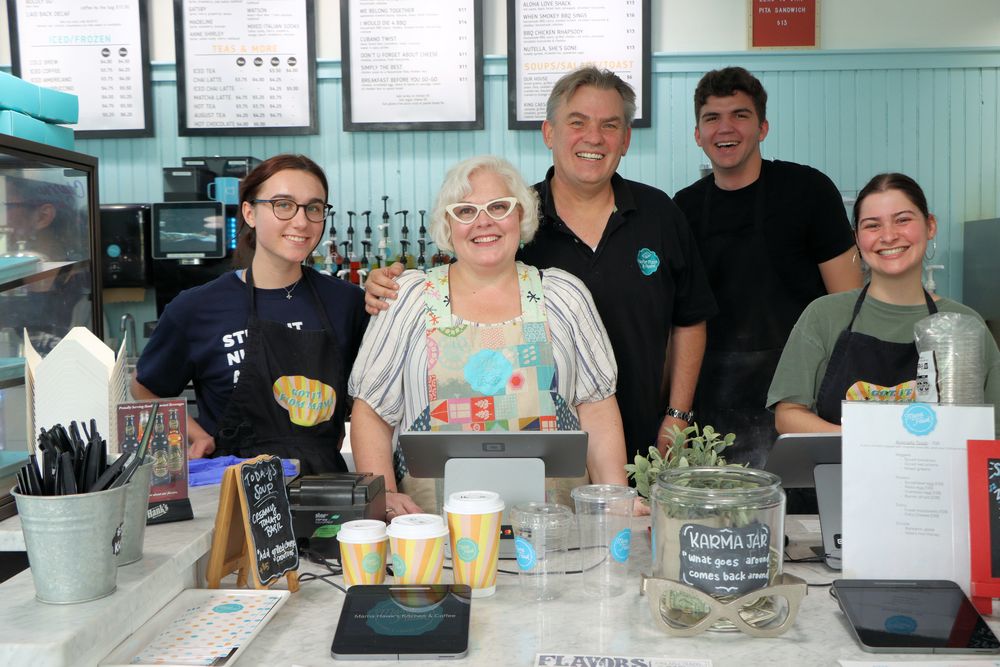 Mama Hawk's Kitchen and Coffee

58 Peddlers Village Rd, Lahaska, PA 18931
mamahawks.com
Liz Hawkins spent years honing her baking skills and creating her own original recipes as a professional baker. One bite of her confections and you'll be hooked for life. Luckily, today at her retro-chic Mama Hawk's Kitchen and Coffee in Peddler's Village, she serves up a variety of specialty coffee drinks, gourmet sodas, delicious baked goods, and the fluffiest, gooiest, and most delicious freshly baked cinnamon buns for miles around. And yes, they're really that good. We won't leave the village without a few.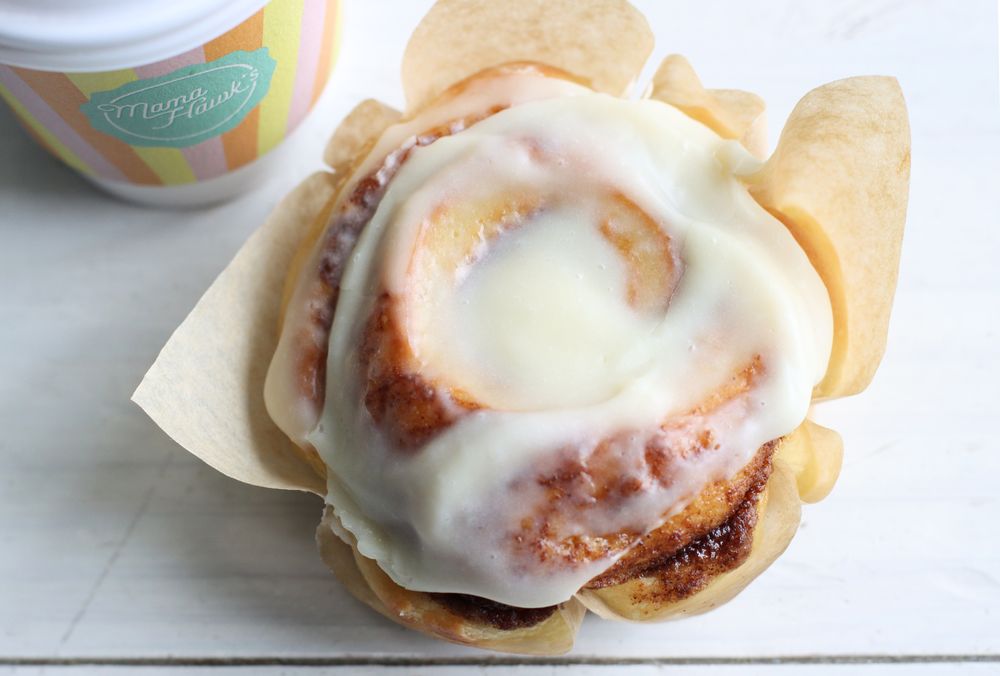 Besides her original and super popular cinnamon bun flavor, look for seasonal flavors like 'Strawberry Nutella Buns' and 'Strawberry Lemonade Buns.' Other strawberry treats to try include her Strawberry Pop-Tart Sugar Cookies (super delish) and her Strawberry Lemon Muffins. For something really special, treat yourself to her 'Strawberry Nutella Pizza.' When you need something refreshing, go for the Strawberry Lavender Novel Soda made with strawberry puree, lavender syrup, and lemon-lime soda.
Get there early and start your day with one of her most popular items, an egg sandwich on a house-baked cheddar bun. She even bakes her own bagels! For something more savory later in the day, check out Mama Hawk's full menu of specialty salads, pizzas, and paninis.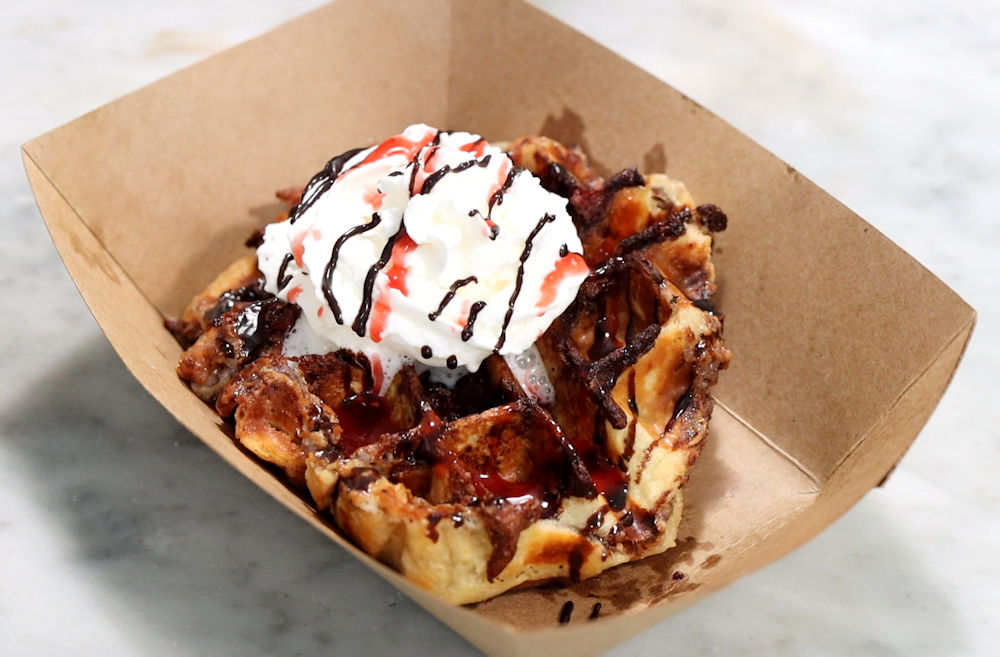 💡 Secret Menu Item Tip:  It's not on the menu, but if you see Liz, ask for the Cinnamon Roll Waffle. A gooey cinnamon bun is split in half, sandwiched, waffle pressed until crispy, then topped with whipped cream and syrup. It's as amazing and decadent as it sounds!
Pop Into Clusters for Impossible to Resist Fresh Popped Popcorn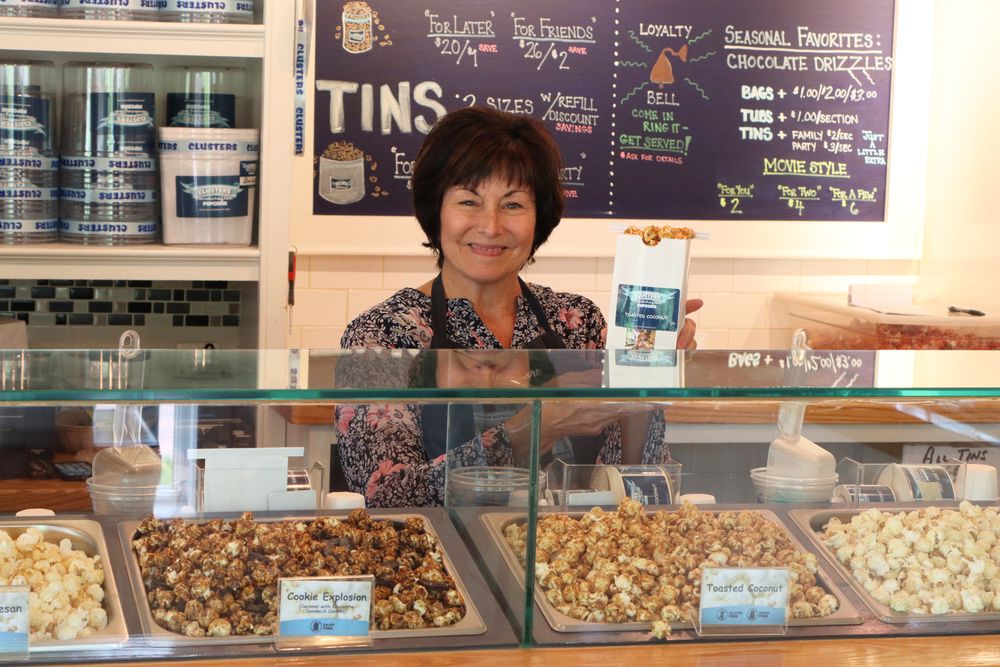 While you're walking around and shopping at Peddler's Village, 'pop' into Clusters for a bag of handcrafted specialty popcorn that's popped fresh daily. It's the perfect snack when you're on the go! 
At Clusters, choose from a menu of sweet and savory popcorn flavors you can sample in store before you buy. Each season brings new flavors to try. Some of their most popular sweet varieties are their original Caramel Corn, Toasted Coconut, Peanut Lovers, and Pumpkin Crisp. Cookie Explosion has become one of our personal favorites and has pieces of dark chocolate cookie mixed with caramel corn that has a sweet caramel bite with just a hint of salt. They even have a strawberry flavor through the end of May.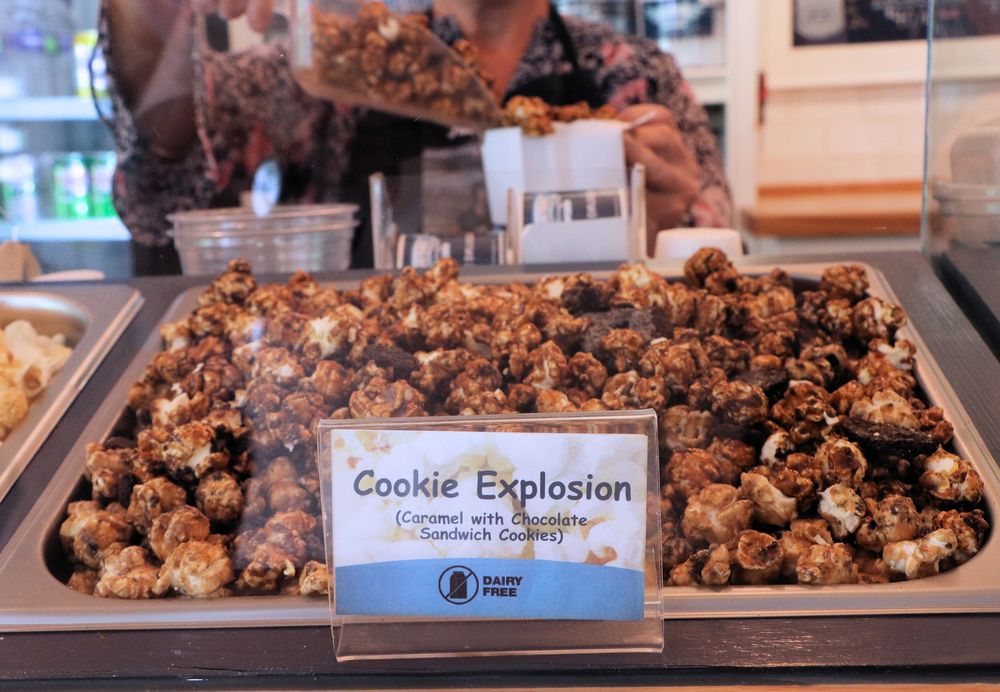 If you like savory popcorn flavors, try their White Cheddar, Cheesy Doodle (which tastes exactly like a cheese doodle), or Buffalo Blue inspired by hot wings. Other fun flavors include their Loaded Baked Potato and Just Like a Pickle.
Sizes at Clusters include bags in small, medium, and large. There's also gallon-sized tubs and tins to keep your 'corn' fresh, and bonus: most of the flavors are gluten free and many are dairy-free as well.
Tip: When you return to refill your gallon tubs or tins, ring the bell on the counter and you'll get VIP service. You'll get to skip the line!
Eat All the Strawberry Cupcakes You Can Handle at The Lucky Cupcake Company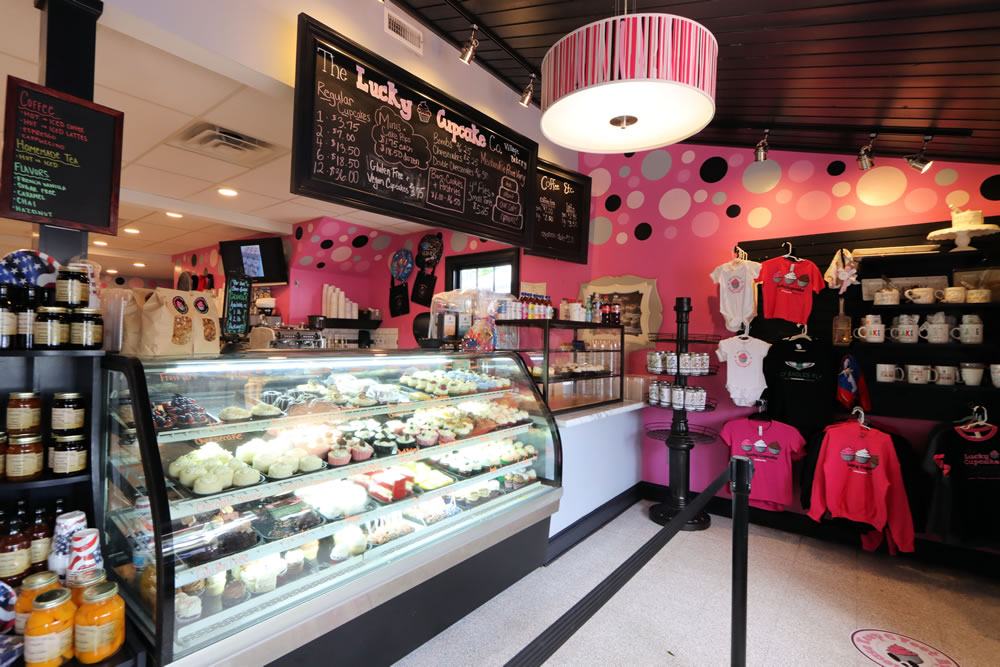 This Food Network famous bakeshop that competed on Cupcake Wars, offers buttercream topped cupcakes in a variety of traditional, creative, and seasonal flavors. Through May enjoy delicious strawberry cupcake flavors including Strawberry Cream, Strawberry Shortcake, and Strawberry Chocolate. 
For something to share with family and friends, pre-order their "Strawberry Festival in a Bag" ($55)  which includes a Strawberry Pie, Strawberry Banana Bread, and strawberry oatmeal cookies, strawberry donuts, and a strawberry jam jar.
Grab a Scoop of Small Batch Strawberry Ice-Cream With An Authentic Style Liege Waffle at Nina's Waffles & Ice-Cream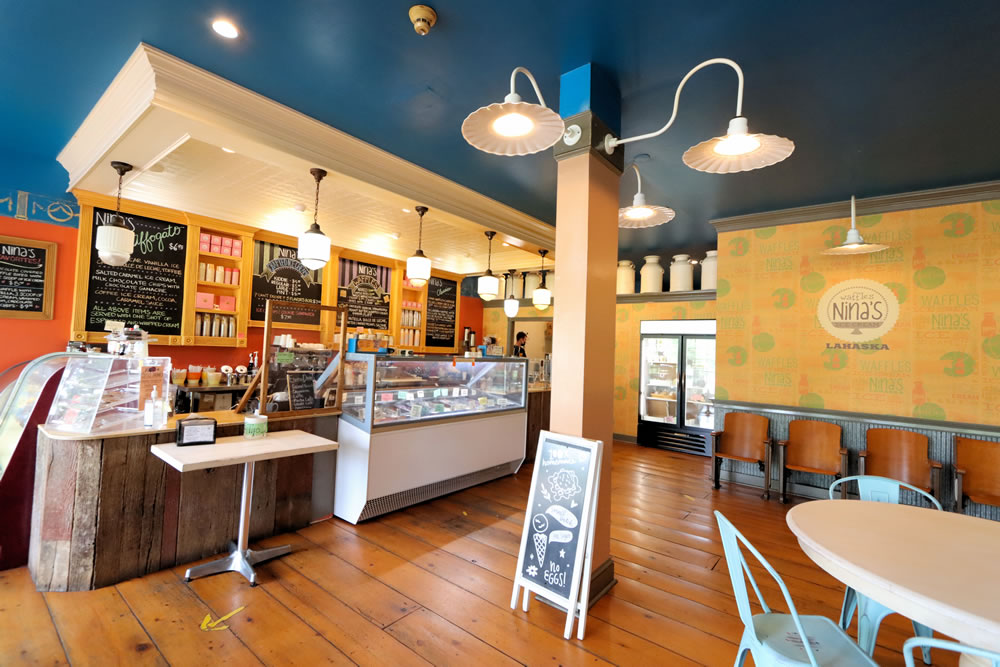 Nina's Waffles & Ice-Cream
18 Street Rd, New Hope, PA 18938
ninaswaffles.com
For a sweet treat, don't skip Nina's Waffles & Ice-Cream in Peddlers Village where they scoop out seriously delicious small-batch ice cream served along with authentic Liege-style waffles. A style of Belgian waffle, these waffles are made from a brioche-style yeast dough instead of a batter. What makes them unique is that before being pressed, they're sprinkled with pearl sugar, making them dense and chewy with a slight sugary crunch on the outside. They really are a yummy treat.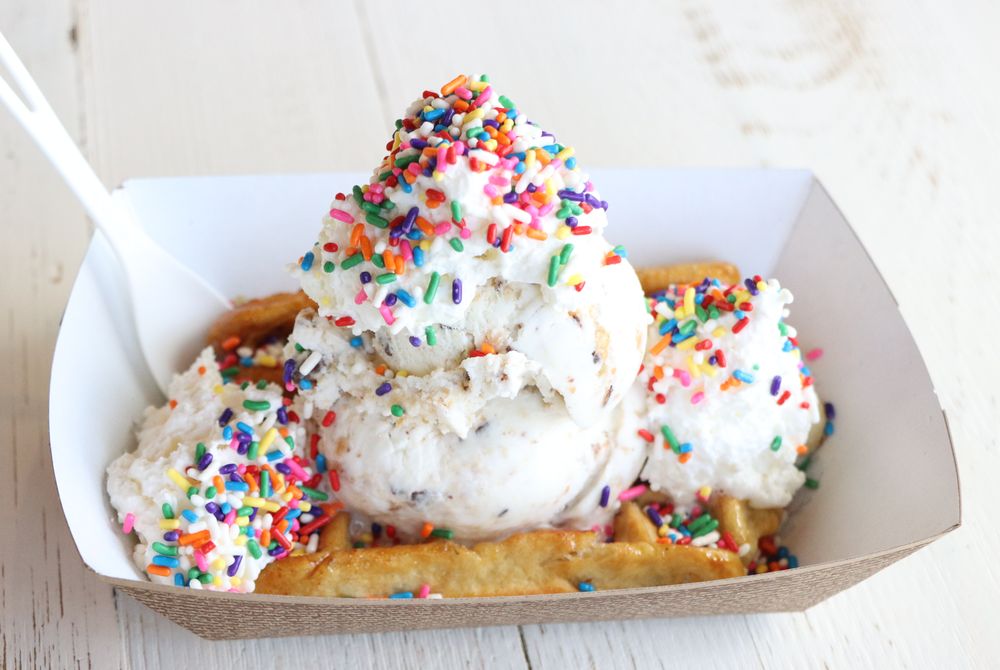 You can try a freshly made Liege waffle at Nina's on its own, but do yourself a favor and top it with a scoop or two of Nina's incredible small-batch ice cream offered in a variety of flavors. Our all-time favorite flavor is 'Mad Crack' made with Madagascar vanilla ice cream, chunks of saltine cracker brittle, bits of toffee, and chocolate. For a strawberry-inspired treat, try their strawberry ice cream topped with whipped cream and chocolate ganache. 
Sit Down for Lovely Dinner at the Newly Renovated Cock 'n Bull, Peddler's Village Original Restaurant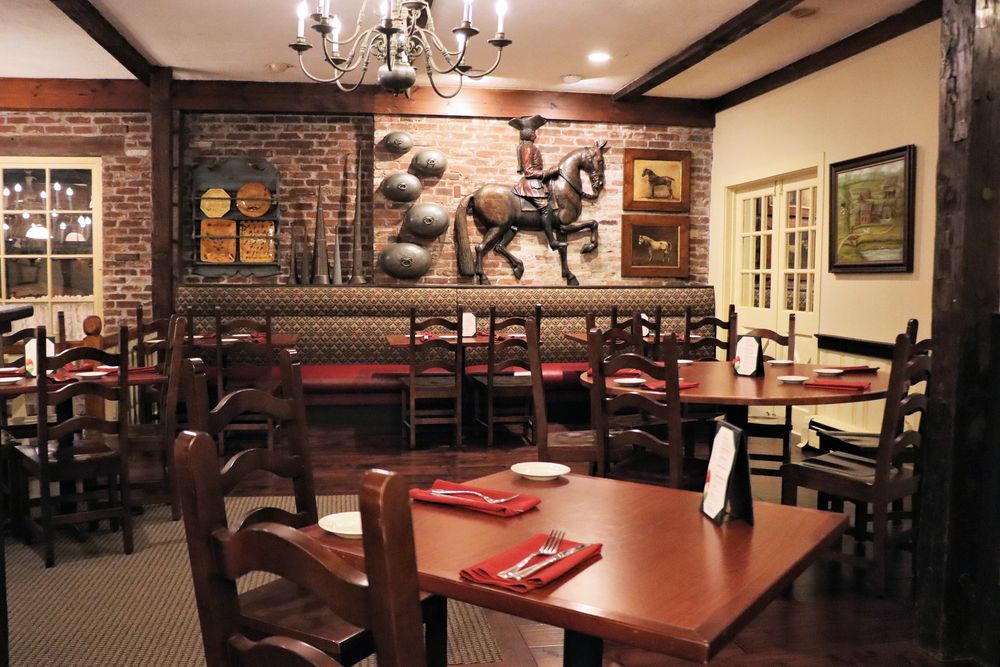 Cock 'n Bull
Route 263 and, Street Rd, Lahaska, PA 18931
https://peddlersvillage.com
With Pennsylvania country charm and wonderful service, Cock 'n Bull is Peddler's Village original restaurant and has just celebrated their 60th anniversary with a menu refresh and dining room renovation.
Serving International and American favorites joined by an ever-changing menu of seasonal specialties, long-time favorites at the Cock 'n Bull include classics like their Chicken Pot Pie and French Onion Soup.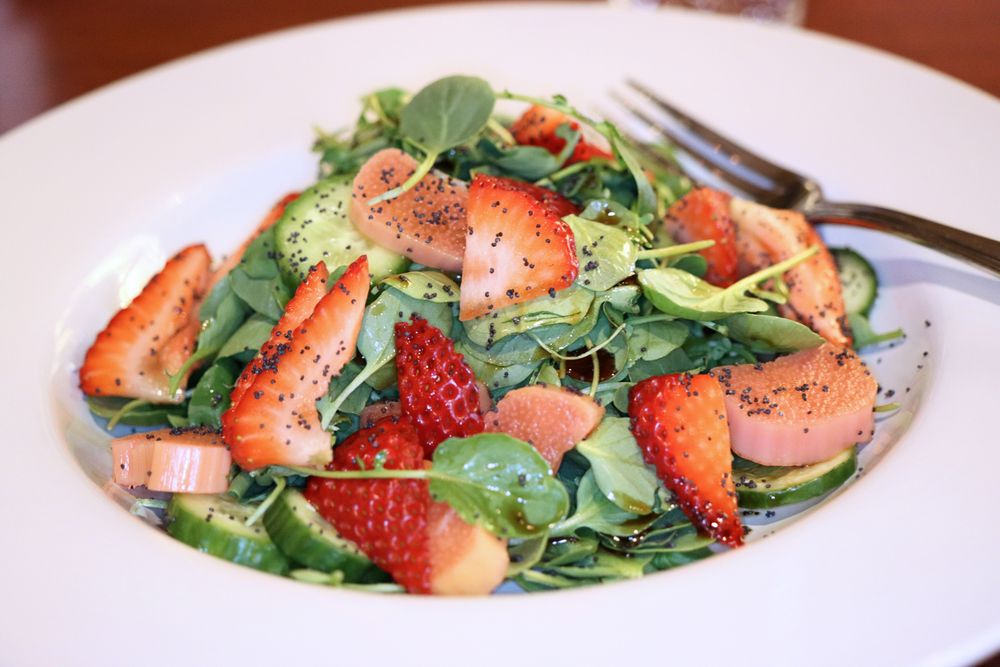 But in keeping with the strawberry theme, Cock 'n Bull strawberry specials include their sweet and tangy Strawberry Margarita with fresh strawberry puree and their unbelievably fresh and delicious Strawberry Watercress Salad with pickled rhubarb, torn basil, and poppy seeds, all tossed with a vanilla-balsamic dressing. It's spring perfection!
For flavor south of the border, go for their Mahi-Mahi Fish Tacos topped with a strawberry-serrano salsa and served inside flour tortillas
 💡 TIP: Ask for a table by the window to enjoy the best spring views of the blooming village.
Buttonwood Grill is the Spot for Award-Winning Burgers, Delicious Stone-Fired Pizzas, Creative Apps, and Original Cocktails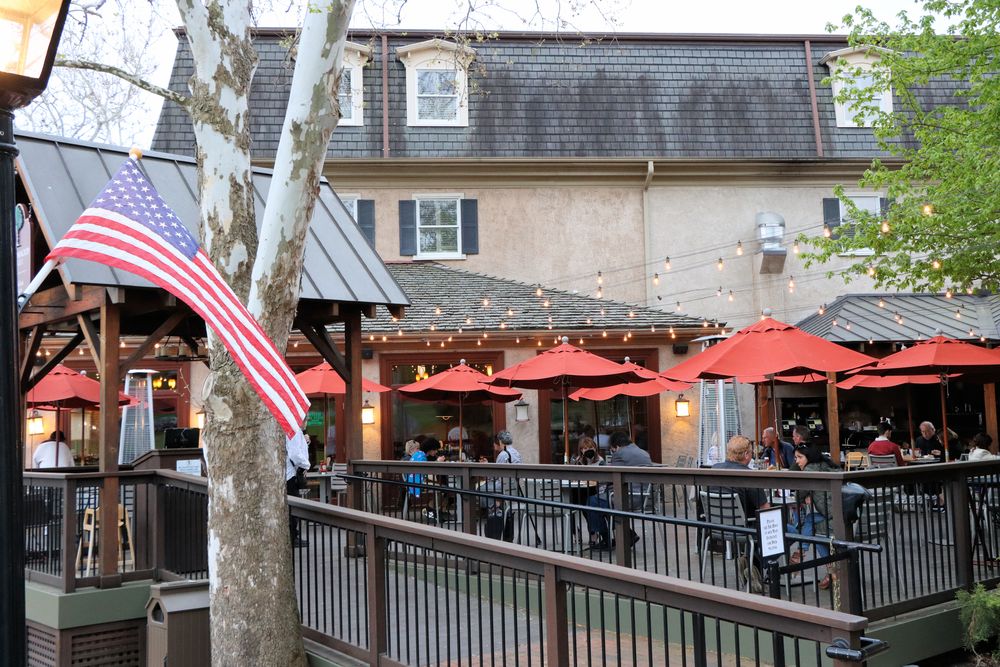 Buttonwood Grill
Route 202 and Street Rd, Lahaska, PA 18931
https://buttonwoodgrill.com/
With an all-day menu for lunch and dinner offering a nice selection of appetizers, fresh salads, entrees, delicious stone-fired thin-crust pizzas, and award-winning burgers, Buttonwood Grill offers super tasty bar-style food in a relaxing atmosphere.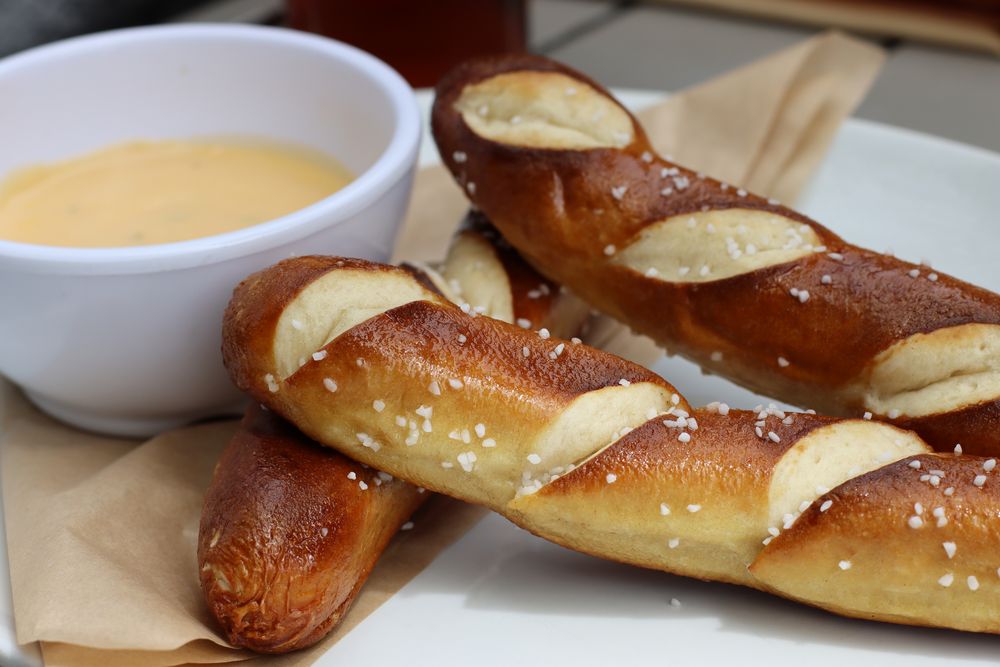 Some of our favorite bites include their Fried Calamari with cherry peppers and their new Baked Soft Pretzel Sticks with jalapeño cheddar ale sauce. 
Buttonwood Grill is serving up strawberry specials of its own. We tried their 'Strawberry Arugula Salad' with goat cheese, candied walnuts, with a honey citrus vinaigrette, and their 'Strawberry Burger' topped with Brie and strawberry bacon jam. The salad was absolutely stellar, and super fresh, while the burger was the perfect bite for anyone who loves that sweet and salty combo. Their cloud-like Strawberry Shortcake was the perfect sweet ending while eating outside on a warm spring day.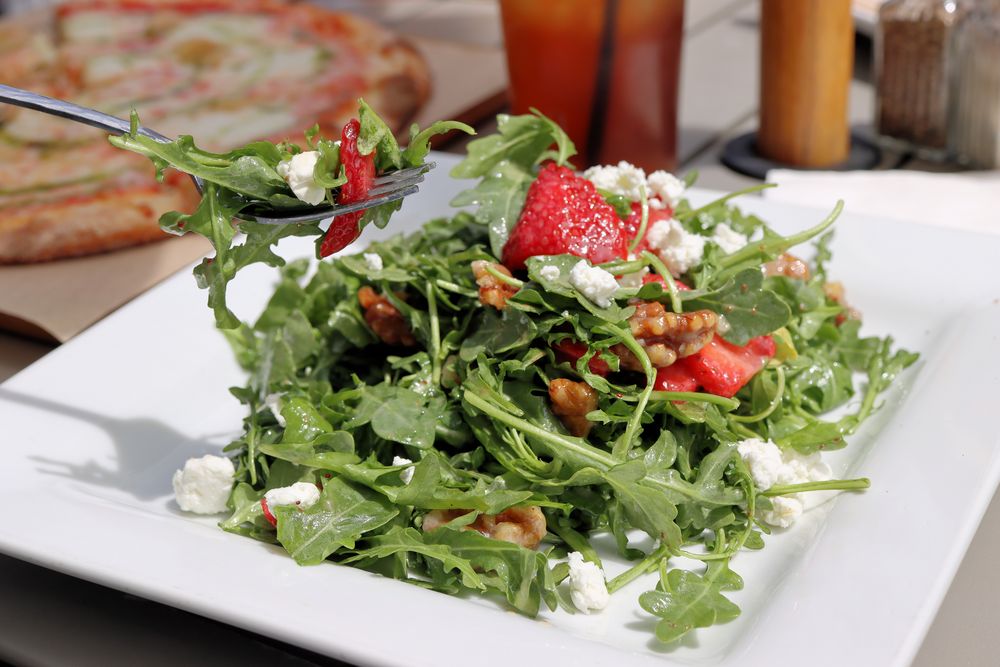 Buttonwood Grill is open for lunch and dinner, but they also offer a delicious breakfast with great coffee, which is convenient if you're staying in the connected Golden Plough Inn. When the weather's nice, be sure to eat on their beautiful outdoor deck with a craft beer, glass of wine, or original cocktail like their Strawberry Watermelon Frozen Daiquiri. 
Dine at Earl's New American When You Want Prime Steaks, Raw Bar, and Farm to Table Dishes
Hailed by OpenTable as a "polished casual dining experience," Earl's New American located across the street from the Golden Plough Inn is the place in Peddler's Village to enjoy prime steaks, raw bar, seafood, and farm to table dishes inspired by local and American cuisine.
Their Caesar Salad made with romaine hearts, lemon, garlic, and white anchovies is exceptional and their creamy She-Crab soup served with a house-made cracker never disappoints. For an appetizer, their Meatballs over Creamy Polenta are comfort food at its finest.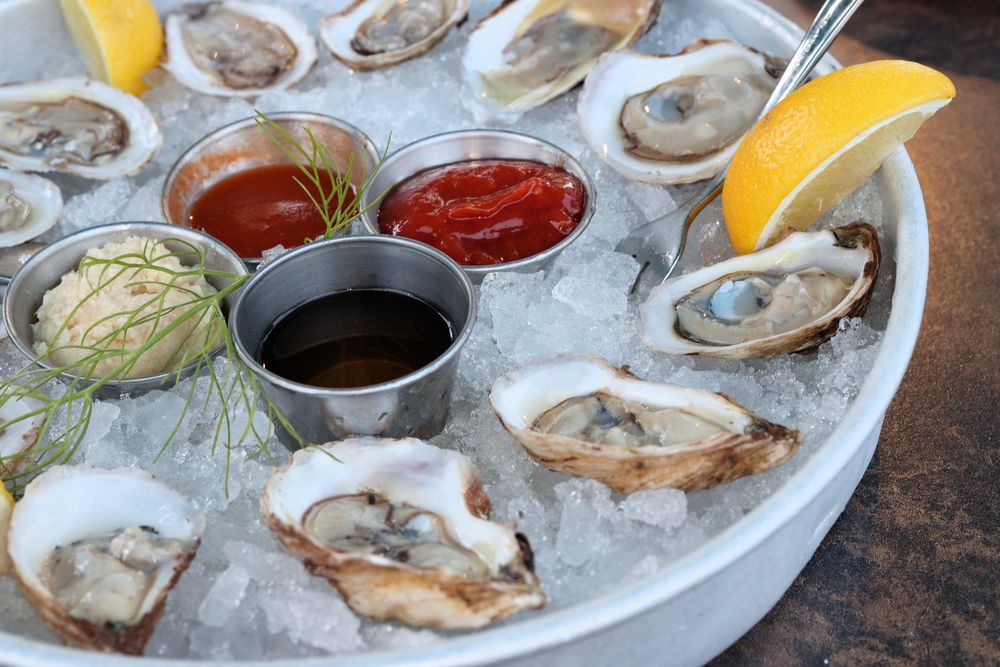 On a recent visit, we ordered up a dozen of their fresh oysters on the half shell to enjoy on their lovely outdoor patio, which paired perfectly with their Strawberry Sangria on special. The oysters were so delicious we went back for another round the following day. If oysters aren't your thing, Earl's also offers clams on the half shell and shrimp cocktail. For dinner, the Pan-Seared Scallops served with a quinoa and mushroom ragout, corn porridge and candied bacon are truly outstanding.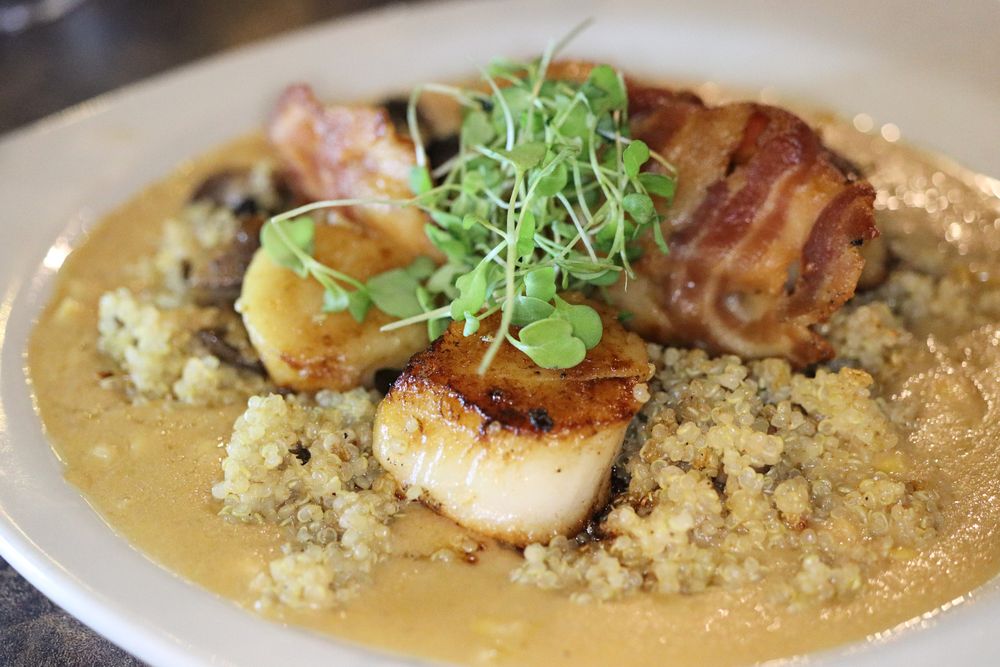 The desserts here don't disappoint either. We love their light as air Tiramisu and decadent Vanilla Crème Brûlée served with berries.
Open for lunch and dinner, Earl's New American is also currently offering Strawberry Festival specials like Strawberry Gin Smash and Strawberry Banana Crisp. Don't miss their refreshingly delicious Strawberry & Watermelon Gazpacho with grilled baby shrimp and pickled cherry tomato.
Reservations are recommended.
Tips For Getting Around Peddler's Village

For Peddler's Village Info, Stop into their New Visitor and Events Center in the red barn on Street Road – Here you'll be able to get

recommendations, maps, local info, and souvenirs. You can also shop the General Store inside for strawberry-themed tees and edible treats including jams, jellies, sauces, and butters. 
Go Monday to Thursday to Beat Weekend Crowds – While most big events take place on the weekends, visiting midweek had us feeling like we had the place to ourselves. Shops close by 6 pm during the week, so be sure to give yourself enough time to explore.
Enjoy Outdoor Dining – There are 5 restaurants in the village that offer full-service outdoor dining restaurants. All the restaurants offer takeout, which can you can enjoy at one of the many outdoor tables scattered through the village. Picnic blankets are also welcome in designated grassy areas.
Parking is Free: Parking is free-for-all visitors and guests at the Golden Plough Inn have reserved personal parking spots close to their rooms. 
Make it a Getaway – Day trips to the village are great, but we recommend staying overnight since there's so much to do, shop, and see. The Golden Plough Inn rooms are comfy and quiet, plus in the mornings, the gardens are a lovely place to enjoy your coffee. It's really perfect for families, a shopping trip with friends or a romantic getaway.
Bring a Cooler Bag – There are so many delicious things to try here, but you can only eat so much. Instead of missing out, pack a cooler bag to keep your gourmet treats or leftovers cool for the ride home. If you're staying overnight, the Golden Plough rooms also have mini-fridges to keep your food and drinks cold until you're ready to leave.
Download the Peddler's Village App For More Ways to Save $ – Available on iTunes and Google Play. The app will help you find your way around, but also inn reservations, restaurant menus and hours,  and special store coupons!
Check out their special summer packages for discounted overnight stays at the Golden Plough Inn.
Active duty military, veterans, and seniors get 10% OFF at the Golden Plough Inn, Buttonwood Grill, Cock 'n Bull Restaurant, Earl's New American, Hart's Tavern, and Giggleberry Fair, Mondays through Thursdays.
Do the Peddlers Village Scavenger Hunt, Win a Prize: In the app, there's a guided scavenger hunt that will take you on a fun journey through the village. Answer the questions correctly, you'll earn a prize!
Hint: It's edible, so complete the hunt before you sit down to eat.
Bring your Pooch – The grounds of the village are dog friendly and you're welcome to eat with your pooch outside on the patio at Earl's. While The Golden Plough Inn does not currently accommodate pets, there are other local hotels & AirBNBs in the area that do.
Be sure to visit their pet-friendly boutiques: The Total Animal and Tails of the Village.
Where to Stay at Peddler's Village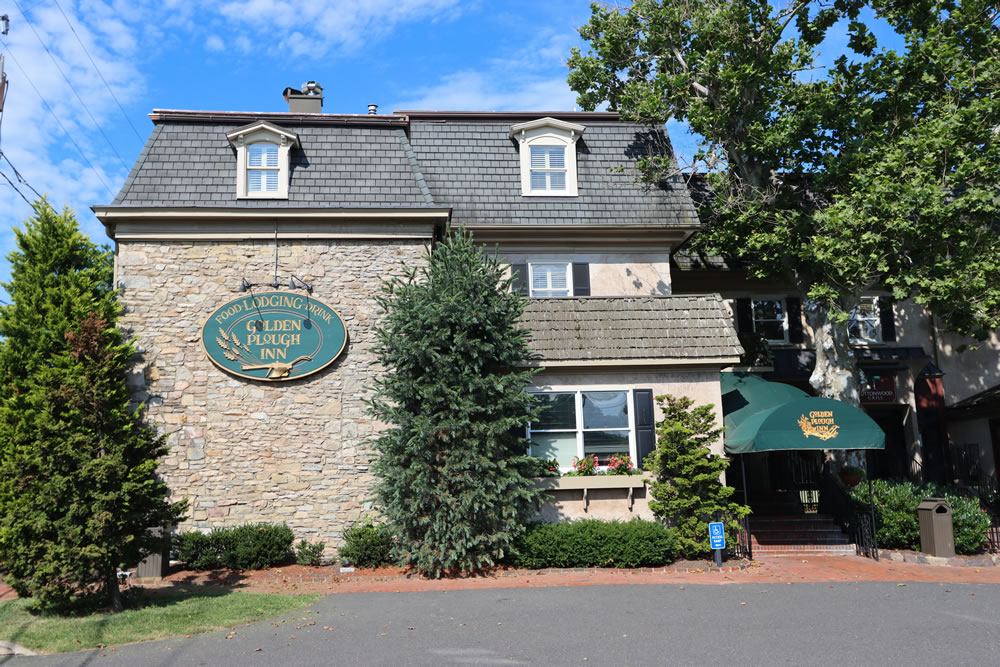 Golden Plough Inn
5883 Lower York Rd, New Hope, PA 18938
GoldenPloughInn.com

 
An overnight stay will give you plenty of time to explore, shop and eat your way through Peddler's Village. The best part is that you never have to leave the comfort of this charming little village. Their onsite Golden Plough Inn has over 70 guest rooms throughout the village and in their historic main inn building, which was originally a tavern dating back to the 1850's.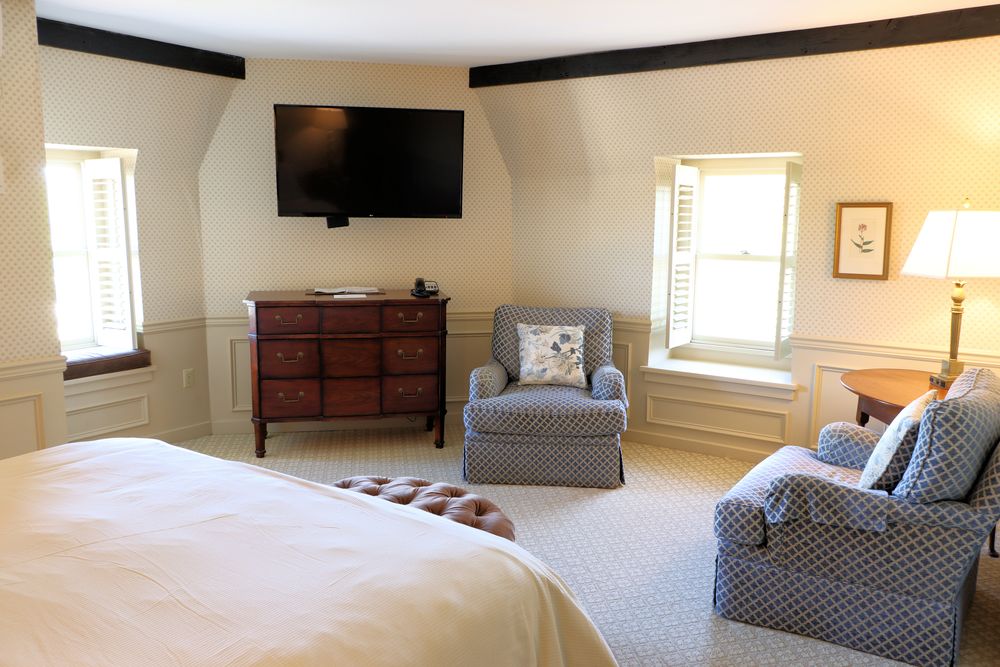 The rooms here are super comfortable with furnishings inspired by fine Pennsylvania country inns. They also have those very much-needed modern necessities like flat-screen TVs, mini-fridges, and free Wi-Fi. With a variety of room categories and sizes to choose from, the Golden Plough Inn easily accommodates you whether you're traveling with family, friends, or for a romantic getaway.
Complimentary coffee and tea are available all day in the lobby, which is really convenient when you need a caffeine boost from from a day of shopping and exploring.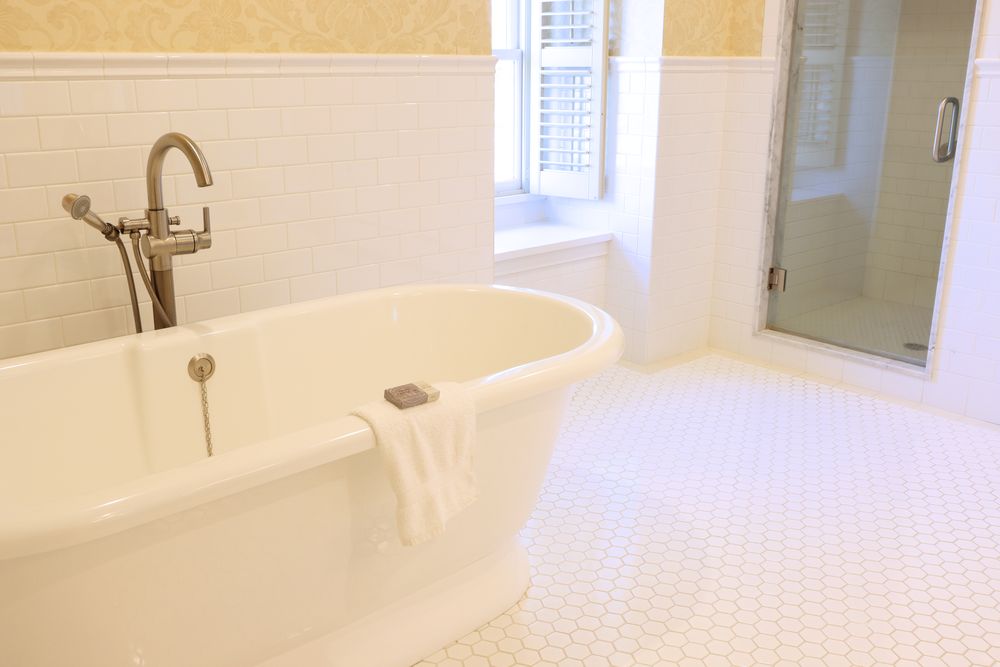 Many of the rooms at Golden Plough Inn have whirlpool tubs and gas fireplaces which can be great for relaxing with a glass of wine and a treat after a long day of shopping and eating in the village. 
Is There Parking and Admission Fees at Peddler's Village?
Peddler's Village has no admission fee and there's plenty of free parking throughout the village. If you're staying at the Golden Plough Inn, you'll get your own reserved personal parking space convenient to your room. You're still free to drive and park anywhere you like as long as it's not reserved.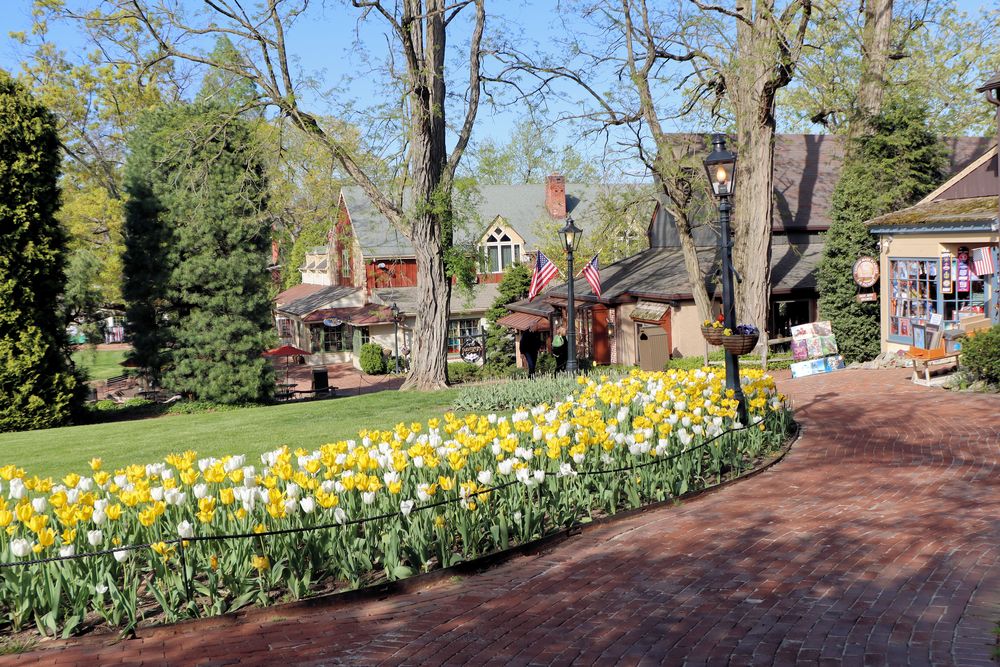 Where is Peddler's Village Located?
Peddler's Village is located in the village of Lahaska in Bucks County, Pennsylvania at the intersection of Route 202 and Route 263. Lahaska was first settled in 1701.
Address: 100 Peddlers Village, New Hope, PA 18938
How to Get To Peddler's Village
Peddler's Village is only 10 minutes west of New Hope and 15 minutes east of Doylestown. Close to many major cities, Peddler's Village is:
60 minutes to Philadelphia 
90 minutes to New York City
90 minutes to Lancaster, PA
3 hours to Washington D.C.
Driving tip: Peddler's Village may show up in your GPS as New Hope instead of Lahaska. Enter 2400 Street Road New Hope, PA 18938 and you will surely get there.
Peddler's Village is open year-round and equally wonderful around the holidays.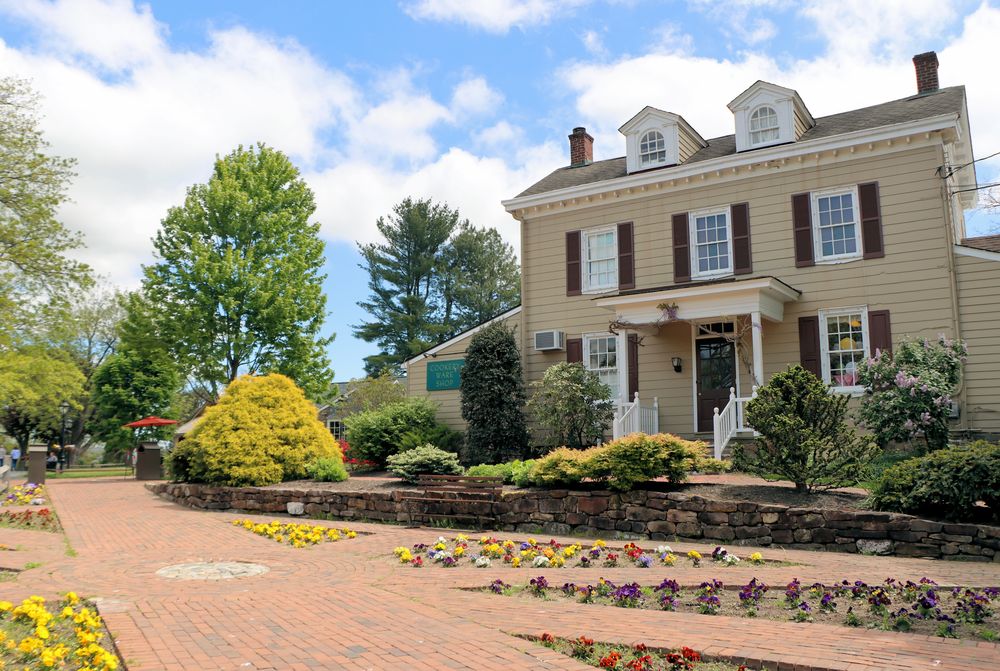 Check out our other posts below!




Credit: Source link