With Bitcoin (BTC) hovering around the 200-week moving average (MA), some analysts believe that the top cryptocurrency might be laying grounds for a ranging market that would, later on, prompt a bullish cycle.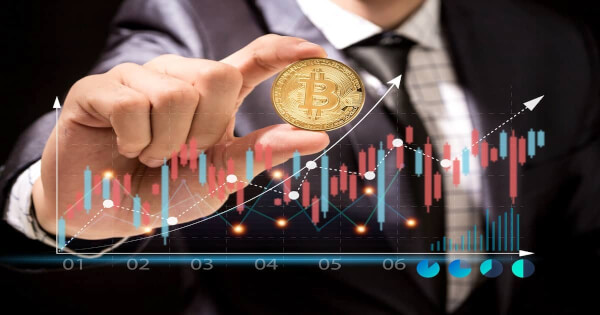 Crypto trader Rekt Capital pointed out:
"If BTC continues to hold the orange 200-week MA as support and the black 200-week EMA figures as resistance, BTC could form an accumulation range here, just like in 2018. This would enable multi-month consolidation even as far as December 2022."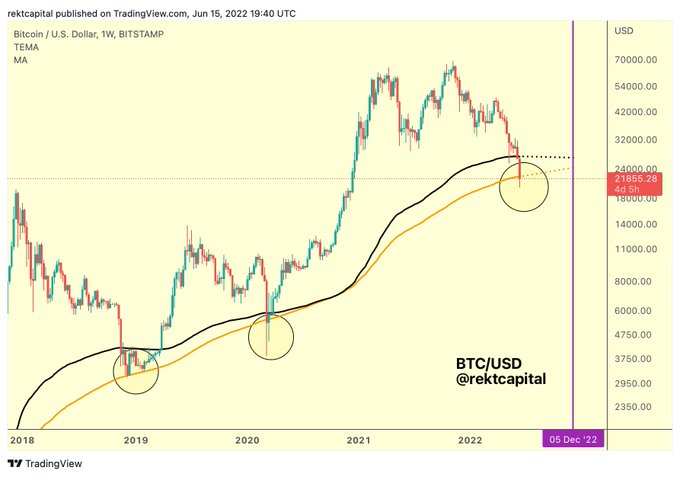 Source: TradingView/RektCapital
However, the trader noted that this thesis would be validated if a consolidation range materializes at the 200-week MA in the next few weeks.
With the 200-week moving average acting as the last shield during previous bear cycles, market analyst Ali Martinez believes history might repeat itself. He explained:
"The 200-week moving average has served as the last line of defense in previous bear markets. Since 2015, each time BTC has retraced towards this critical support level, prices have begun to consolidate, forming a market bottom before a new bullish cycle begins."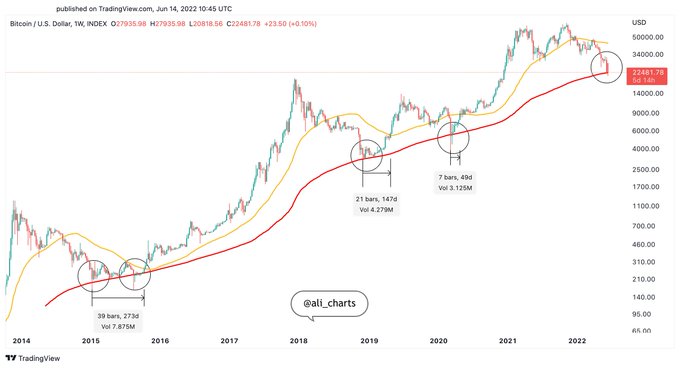 Source: TradingView/AliMartinez
Similar sentiments were echoed by crypto analyst Lark Davis, who said:
"The 200-week moving average for Bitcoin has marked previous bear market bottoms."
The 200-week MA reflects a long-term measure that shows four years of an asset's price action. Therefore, based on past analysis, it has acted as a significant support level in the Bitcoin market.
Meanwhile, Mike McGlone, a senior commodity strategist at Bloomberg Intelligence, noted that the $20K level might be the new bottom for the BTC market, as was some yesteryears when the price was at $5,000. He pointed out:
"$20,000 Bitcoin may be the New $5,000 – The fundamental case of early days for global Bitcoin adoption vs diminishing supply may prevail as the price approaches typically too-cold levels. It makes sense that one of the best-performing assets in history would decline in 1H."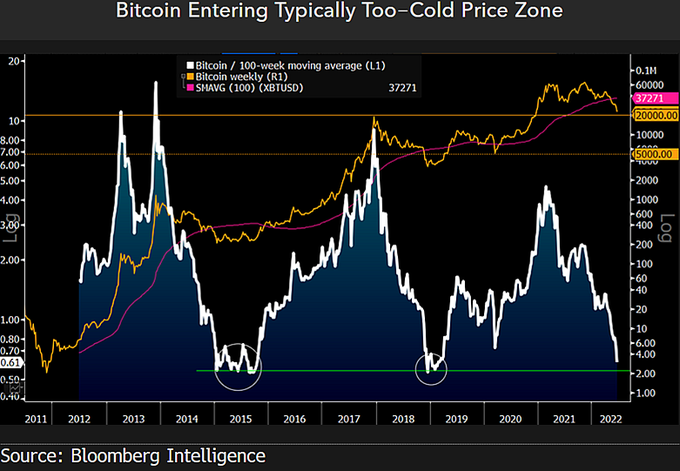 Source: BloombergIntelligence
The leading cryptocurrency was hovering around $21,700 during intraday trading, according to CoinMarketCap. 
Image source: Shutterstock




Credit: Source link